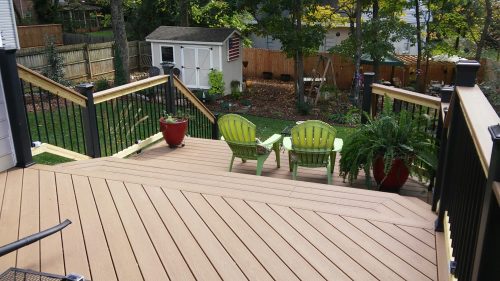 Choosing to add a deck to your home is a big investment. A lot of time and money goes into building a deck, and it's something that will be on your property for years to come. Once you decide to build a deck, an important next step is to decide which type of material you want the deck to be made from. As experienced deck builders in North Carolina, we often have clients ask us which type of deck material we recommend: wood or composite?
There's no easy answer to this question, though. Both materials have their pros and cons and come in a variety of qualities and prices. The right deck material will depend on your budget, desired look and maintenance abilities. To help you make the right decision, you must first understand the basics of each material and what they are best known for.
Natural wood
Building decks in North Carolina made out of natural wood is quite popular. Natural wood offers a comfortable, homey and warm look and feel and can really be customized using stains and finishes to match the exterior of your home.
Most wood options are widely available and tend to run on the cheaper side during the initial investment. However, there is a wide spectrum of quality when it comes to natural wood.
Pressure-treated (PT) wood is the cheapest option, but one of the most prevalent. It can be stained to create a beautiful color, but the low price comes with a few drawbacks. This type of wood is susceptible to cracking, splintering and warping.
Cedar and redwood are two of the next steps up from PT wood, offering beautiful finishes and are a little higher quality, helping to resist cracking and warping.
At the high end are the tropical hardwoods like ipe, which have to be imported. These woods will come at a much steeper price, but will also be of a much higher quality and longer lasting than cheaper wood types.
No matter what natural wood type you choose, you have to remember that there will be maintenance involved over time. Natural wood decks in North Carolina need to be stained, resealed and repaired every few years, which can cost you more in the long run if you aren't doing it yourself.
Composite
On the other hand, composite decking is man-made and mainly composed of wood fibers and recycled plastics. Composite boasts much lower maintenance than natural wood, but comes at a higher initial cost. Composite manufacturing has come a long way, and many materials offer realistic-looking wood-grain patterns and colors for a natural look.
With composite decking, you will not need to sand, refinish or stain your deck at all. The materials will not splinter, warp, rot or split like wood can. The most maintenance required will usually be a good scrub with soap and water or with bleach to remove dirt buildup or mold and mildew.
However, composite materials can fade over time, especially if subjected to direct sunlight, and are not easily painted over. Therefore, the color choice is important. You can choose to add extra coatings to your deck like UV protection and scratch resistance to help with the longevity.
Work with a quality contractor
As you can see, both materials offer a variety of benefits. Choosing the best one for you will depend on your budget and maintenance ability! Once you decide, the next step will be to select quality deck builders in North Carolina to make your project come to life.
If you're in the market for a new deck, call Carolina Improvements! Our home improvement specialists have been building decks in North Carolina for over a decade. We also work on roof replacements, new windows and siding, gutters, fences and more! Call today to schedule a free in-home estimate.
Categorised in: Deck Builders, Decks
This post was written by Writer