Fences allow homeowners to protect their space and craft an outdoor area that is safer and more accessible for them. Fences in North Carolina can help keep you and your home safe and sound.

Carolina Improvements is the most well-regarded fence installer in the Piedmont Triad and all of North Carolina. We are known for our attention to detail and dedication to client satisfaction. You can count on us to provide you with an affordable and sensible fencing solution.
Types of Fencing
Here are just some of the fencing types that Carolina Improvements can help you install:
Chain link fences:
Chain link fencing is one of the most basic types of fencing available. It is typically used to keep pets and other animals confined to your yard, and can help you form a safety barrier between your space and the outside world. Chain link fencing allows winds, rainwater and other elements to easily pass through and into your yard. It is also called hurricane fencing.
Privacy fences:
We can help you install both wood and vinyl privacy fencing. Privacy fences allow you to protect your yard from unwelcome guests and overly inquisitive eyes. If you have children living in your home, installing a privacy fence can be an excellent way to let them play in the great outdoors safely and securely. Privacy fences can also help you transform your outdoor space into a place to host and entertain.
Aluminum fencing:
This can be an attractive alternative to chain link fencing that provides a similar type of barrier. Aluminum fencing combines the polished aesthetic of a privacy fence while providing you with an open and appealing yard. Reach out to Carolina Improvements, your premier fence builder in Greensboro, North Carolina, to learn about the types of aluminum fencing that may suit your yard the best.
1-800-938-1958
FREE In-Home Estimate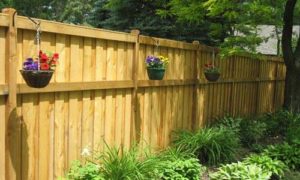 Fence Installations
If your property is in need of a newly installed fence, you can count on us to provide your space with the privacy and added safety that you need. Call Carolina Improvements today at 800-938-1958.
Ask us about home improvement services in Greensboro, Morganton, Durham, New Bern, Wilmington, High Point, Asheboro, Raleigh, Fayetteville, Mount Airy, Winston Salem, Salisbury, Marion, Greenville, Lenoir, Statesville, Rocky Mount, Lexington, Jacksonville, Hickory.