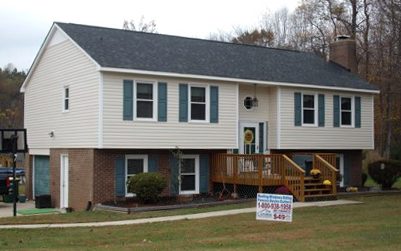 We have more options than ever when it comes to choosing a siding material for our homes, but over the years, vinyl has remained one of the most popular choices in America—and for good reasons, too! Vinyl siding has tons of benefits, with hardly any drawbacks. Keep reading to learn a little bit more about vinyl siding and what makes it America's most trusted siding material:
Lower overall costs:
When building or remodeling a home, saving money wherever you can is important. At the same time, you don't want to cut corners. For those reasons, many folks choose to use vinyl siding over more expensive materials. Hiring a professional to install vinyl siding can cost anywhere from $2,000 to $8,750 for a larger home. While that's expensive, it's nothing compared to the $10,000 price tag you might pay for wood siding. You can save money installing vinyl and use those savings to upgrade your bathroom or kitchen. Call us today for a free estimate on your new vinyl siding!
Durability:
When people hear about a cheap deal, the old saying "you get what you pay for" might pop into their head. That's fair. In a lot of cases, cheap goods are cheap for a reason—because they're shoddy and will fall apart easily. Thankfully, that's not the case with vinyl siding. Vinyl siding stands up to the elements just as well as more expensive materials. In some cases, vinyl is better at blocking wind and rain. You may even be able to get a lengthy warranty on your vinyl siding, which can be helpful if it does get damaged in a storm.
Less maintenance:
When it comes to siding, you usually can't just install it and forget about it. Many types of siding have to be treated for insects and need to be repainted every few years to maintain their great appearance. That's not the case with vinyl. Power washing your vinyl siding once a year to keep it clean is basically all you have to do when it comes to maintenance.
Cuts heating and cooling costs:
Even if you have the proper amount of insulation, heat slipping out through your siding is an issue. Vinyl can help you with that problem! Vinyl siding can be insulated to add an extra layer of protection. Speak to a siding professional today to learn more about insulated vinyl siding and how it can save you money on heating and cooling.
Many colors and style options:
Perhaps the best aspect of vinyl is its versatility. Vinyl comes in a wide array of colors and styles to meet all of your wants and needs. In addition to coming in any color you can imagine, vinyl can even be designed to look like other types of siding like wood and stone.
If you're building a home, or if your house needs a fresh new look, be sure to consider vinyl siding. Still not convinced? Give Carolina Improvements a call to speak with one of our friendly staff members about vinyl siding and why we're the best choice to install it at your home.
Categorised in: Siding
This post was written by admin